The break in the wet weather at the start of the week allowed the Welsh Dee to slowly fall off below 1 metre, from its peak of 1.3 metres (Manley Hall). Reports of salmon being caught has definitely brought more anglers out on to the river and this additional fishing activing has increased salmon catch reports but unfortunately not for me this week.
On Monday my son George was out fishing Llangollen's upper beat and caught a couple of sea trout on the spinner. He met local angler, Alex, who had caught a coloured salmon of about 8lbs in the tail of Dee Farm but the other anglers he met hadn't caught or seen any salmon.
This week, Tuesday was my first chance to go fishing and I fished the river above Horseshoe Falls from Duncan's Pool to Dee Farm but only managed a couple of small brown trout and didn't see any fish moving. It was however a good day for photography and I managed to get some good pictures of the river for the "Pool Talk" section of my website, which is starting to take shape nicely.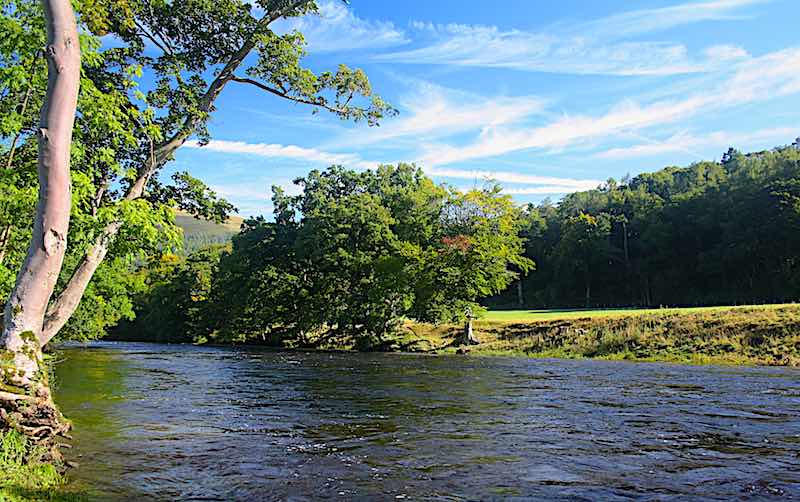 After a fish & chip dinner, I fished the golf course beat until nightfall but didn't get anything there either. However, earlier in the day I heard that Terry Evans caught a 22lb salmon in the Sludgy Pool and a visiting angler had a dark 8lb salmon out of the tail of Abergregan on the spinner earlier in the day.
On Wednesday, Simon Camp caught his first salmon of about 8-10lbs on the fly (size 10 orange Ally's Shrimp) in the fast run above the Meadows. He mentioned that one of the bailiffs had lost a salmon of about 8lbs while spinning.
On my next outing, Friday, conditions were prefect for fishing the fly: a dull overcast day and the river running clear @ 0.84m (Manley Hall). Unfortunately, again I only managed to catch a couple of brown trout on the golf course beat.
However, I did see a double figure fish jump in the fast run above the Meadows, so there was at least one fish moving through. In the afternoon, Alan lost a very big salmon in the Top Pool; he said "it took his spinner and dropped to the bottom of the river and wouldn't budge and in the end the spinner came out".
There were a lot of anglers fishing the Llangollen beats over the weekend so I would expect a few more salmon to have been caught but at the time of writing this report I have not had any news. There have been reports that the anglers on the Corwen beats have been catching reasonable numbers of salmon this week but I don't have any more detail than that.
Overall for me, not a great salmon fishing week but at least there were fish in the river and a few other anglers have been rewarded for their efforts. At least I have ticked off a couple of blank days, so I will be getting closer to the silver again, maybe bronze next week!
Thanks to my fellow anglers who have provided me with some fishing results, otherwise it would have been a sparse report this week. If anyone else would like to contribute to this review then please send me a quick note to andrewoverend1@gmail.com with any photos by Sunday of each week and if appropriate I will add it to the weekly review.
Tight line until next week, Andrew (24/9/17)