Hollybush Pool
Introduction
The Hollybush is a long pool that is located between directly above Duncan's Pool on the middle beat of Llangollen-Maelor Angling club. When the Dee is at its summer level (ca. <0.5m @ Manley Hall) I often fish most of the pool from the shallower left bank for grayling and trout, by carefully wading down to the rock ledge in the tail of the pool. However, in higher water you are restricted on the left bank to fishing with the spinner where there are openings between the trees; under these conditions sea trout and salmon are usually caught in the tail section of the pool.
The channel through this pool runs close to the tree lined right bank, with most of the fish lying close to the cover of the overhanging trees. On the right bank there are only a couple of spots close to the tail of the pool that can be fished. During the salmon & sea trout season spinning the tail from these spots is always worth a go because over the years they have produced some good salmon and quite a few sea trout.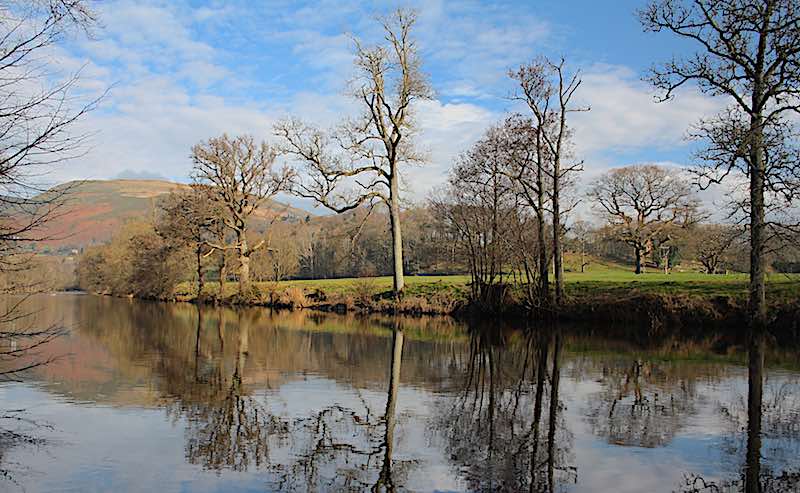 View up river from the right bank by the tail of the Hollybush.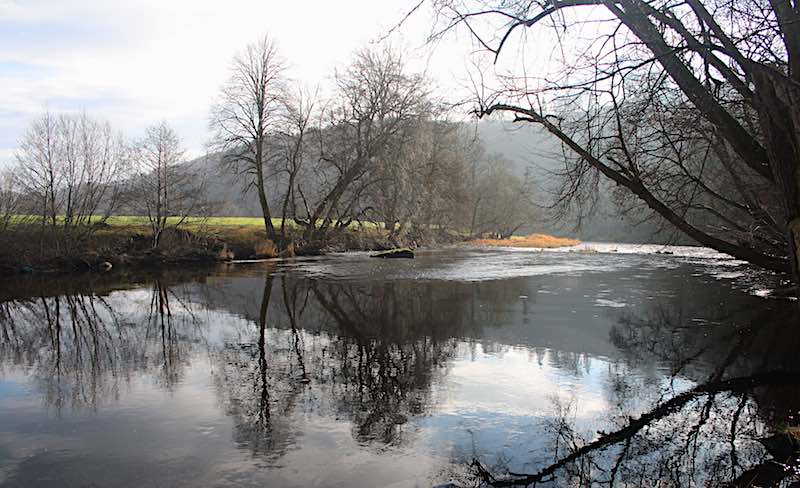 View down river from the right bank into the tail of the Hollybush.
At the tail of Hollybush pool the river flow over a rock ledge that forms about 10m of broken water, which provides cover for fish hiding in the gullies and deeper pockets. In the summer when the is low I find most of the fish lie in this part of the pool and I often catch quality grayling, trout and sea trout using both wet and dry fly fishing techniques.
There are a number of routes to access this pool depending on which bank you want to fish from. The right bank is best accessed by parking in the layby opposite Duncan's Pool, followed by a 100m walk up river to the tail of the pool. The left bank is best accessed through the marked gate at Llantysillio Church followed by a 10 minute walk up river to just past Duncan's Pool.
[Disclaimer – like most outdoor sports, fishing is not without its hazards. Therefore, you MUST do your own RISK ASSESSMENT before starting to fish; especially if you decide to wade and/or fish at night. In addition, you must follow the club rules when fishing this water.]