Looking at my diary I was surprised to realise that it had been over a month since I last fished the Welsh Dee at Llangollen beats and been fishing with Gareth. Therefore, I arranged to meet up with him on Saturday morning at the car park by Duncans Pool.
Where does the time go when you are having fun?
All week the week the weather had been dry and sunny, particularly Friday which was the warmest of the week. However, during Friday evening the wind changed direction to a North-easterly which cool things down considerably for Saturday morning.
I arrived 10am, and was surprise to see few anglers just getting ready to head off down to fish the river; most weeks I virtually have the beat to myself. During the usual angling banter, it became apparent they were members of Huby AC on their annual fishing outing to the Welsh Dee; in total there were eight in their party. Gareth turned up short after this and we made our way down to the river by about 11am.
We decided to head off up river to fish the Upper Beat because the visiting anglers were fishing through the pools of the middle beat. On walking up river it was clear there was very little fly activity on the river; probably because water was being released from Llyn Celyn to supplement the flow at Chester waterworks.
On reaching the Glide Pool I stopped to see if I could tempt any fish from the deep channel using a team of Czech Nymphs (point: size 10, 4mm tungsten bead olive nymph; middle dropper: size 12, 3mm TB Pheasant Tail nymph; top dropper: size 16, 2mm TB brown nymph). I spent about 20 minutes working down through the run but surprisingly didn't connect with anything and didn't notice fish rising.

I continued my way to the Top Pool, while stopping off to fish a few or the fast water pockets with the wet flies and Czech nymphs but again this didn't yield anything. Gareth on the other hand was having more success, have caught a few small brownies and grayling and a couple of larger grayling on the dry and wet flies. He was pleased with this the fact that he was doing much better than me!
We reached the Top Pool at about 1pm. It looked in good condition and I was hopeful I would get a few fish here. Starting in the middle of the pool, just below the tree on the far bank, I worked my way up through the fast run with the team of Czech nymphs. Surprisingly, I didn't get any takes, which was very unusual because I can't remember the last time I didn't get any fish there. On my way up the pool I noticed a couple of small fish taking flies close to the surface. My lack of fish was starting to bug me now, so I switched rods and work down through the pool with the wets flies. In the area below the tree on the far bank a caught small salmon parr. At this rate it's looking like I will have to count this to avoid a "DUCK"!!!
After a break for food, I decided to switch over to a sink-tip line, with a couple of wet flies (point: size 12, Black Pennell; dropper: size 12, Peter Ross) and fish through the pool again. In the area below the large tree on the far bank I had a couple of takes that I fail to connect with. At this point it was beginning to feel like it was not going to be a good day for me!
Time was slipping away so I decided to work my way back to the car with Gareth while stopping off to fish some of the places that were occupied my other anglers earlier. He was still picking up the odd fish while I was getting the big "ZERO".
At Sycamore Run I decided to work the Czech nymphs down through the fast channel, allowing them to drift up to the side of the rock shelf. On my second cast the line darted sideways, before a small wild trout leaped into the air and duly threw the hook! When I worked about halfway down run the line stopped and I lift into a small grayling, which had fallen for the March Brown Spider.
I worked my way to the end of the run but didn't get any other takes. It was now approaching 6pm so I headed back to the car park with Gareth, who had a big smile on his face because he had seriously out fished me today.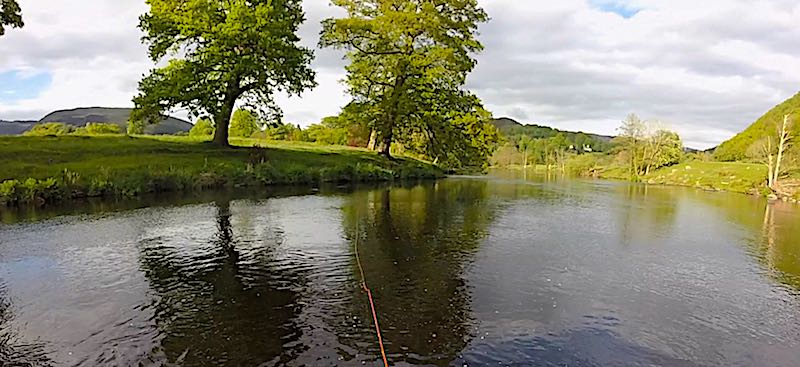 Gareth had to head off home but I didn't need to be back till 10pm, so I stayed on to see if I could recover my poor performance in the evening. I fished down from Duncans Pool to Horseshoe Falls changing my approach a few time but all I could catch was salmon parr. By 9pm I had thoroughly had enough so I called it a day and went home.
Overall, I'm not sure what went wrong with my fishing today. Hopefully, I will fare better next time, tight line.
Andrew Overend (13/5/17)